Exterior hard surface cleaning
Wherever you live, years of grime, dirt, moss and other debris can build up on your hard exterior surfaces. Stonework can lose it's original natural colour. Brickwork can become stained with seepages from within the bricks or from airborne particles. We can bring a new lease of life to your hard external surfaces whether patios, driveways, walls or home exteriors.


A safer way to clean
We use a safe-clean system, an effective, safe alternative to acidic compounds for cleaning brick, tile and concrete surfaces. 'Safety Klean' rids new masonry construction of excess mortar, dirt and other common job site soiling. It is ideal for projects where traditional acidic cleaners are not permitted. Non-fuming 'Safety Klean' contains no hydrochloric or other traditional inorganic acids. It is also more effective than many other acidic cleaners.
Atmospheric Staining
'Poultice' is a ready to use non-acidic blend of alkaline cleaning compounds, detergents and clays in paste form. Designed for removal of moderate to severe atmospheric staining, 'Poultice' is appropriate for use on exterior or interior masonry surfaces. It manufactured to a creamy paste consistency suitable for trowel or airless spray application. Safe for use on polished or unpolished marble and limestone surfaces, 'Poultice' removes surface and subsurface staining, restoring treated surfaces to their original appearance.
Graffiti removal and prevention
Should you be unfortunate enough to fall victim of a Graffiti at tack, we can remove it and apply an anti-Graffiti coating preventing future damage. We have a broad experience in removing spray paint graffiti from various external surfaces including brick and all kinds of masonry. marble and limestone. Using hot water pressure washing equipment combined with non-hazardous graffiti removers we provide a complete graffiti removal service to entirely remove graffiti from any type of porous or non-porous surface quickly and efficiently. Our services are environmentally friendly, safe, efficient and cost effective.
Graffiti prevention
With our Anti Graffiti Systems you can protect solid, absorbent and painted surfaces against graffiti attack and other contaminations such as bird droppings. Our protective coatings are brushed or spray applied and allow the treated surface to breathe, thus preventing corrosion and discolouration. Our products are also ideal for sealing most surfaces against water penetration by impregnating the external facade.
The water-based silicone-free wax emulsion we use has several advantages:
ten years or more effectiveness can be expected
solvent free, pH neutral and biodegradable, it is safe to apply as well as safe for the surface material and the environment
can be applied immediately following graffiti removal, resulting in considerable savings in working time and makes the overall application more cost effective
there is no colour contrast between protected & unprotected surfaces
excellent all round surface protection coating against traffic-film and general soiling
inhibits the growth of moss and algae
a micro-permeable coating, it allows the surface to fully breathe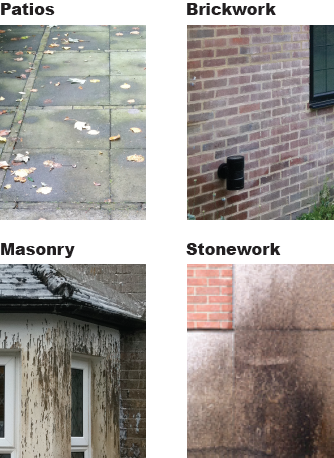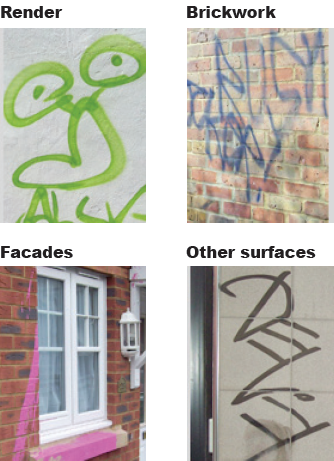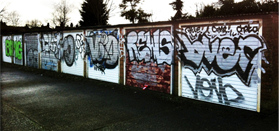 Garage doors and other painted surfaces
Patio Cleaning and Restoration
Driveway Cleaning and Restoration
Brickwork Cleaning and Restoration


Graffiti Removal
Spilt Paint Cleaning